Anti-Infringement Statement of ReneSola Trademark
---
Founded in 2005, ReneSola is a high-tech renewable energy enterprise,focusing
on the research ,development, manufacturing and sales of photovoltaic modules, with independent import and export trade rights,
Renesola provides the customers with renewable technologies and solutions. Meanwhile we supply the highest quality solar PV products,Solar project EPC services and O&M.
"ReneSola" brand trademark has been widely recognized by the international markets, and ReneSola Co., Ltd. is the sole legal owner of the "ReneSola" trademark.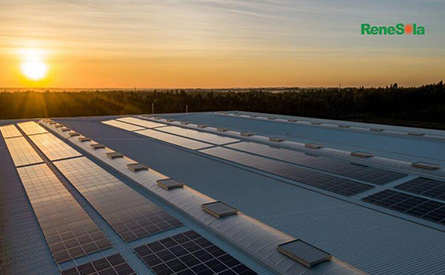 Recently, Renesola gets some compliant from our customer that some suspected counterfeiting Renesola panel in the market misleading users and partners. The fake manufactures sells inferior quality products to the customers using our "Renesola" name. The malicious infringement behavior of individual enterprises has seriously damaged our brand image and corporate reputation.
Renesola reserves the legal action to the illegal behaviors.
In this regard, our company solemnly declares as followed
1. Official datasheet of Renesola panel is only updated on Renesola website of www.renesola-energy.com/download/7100879.html. The customers can download the datasheets officially published by "ReneSola" only and use this as the standard. And all previous product datasheets are not used any more.
2. The Renesola Headquarter company in China is ReneSola Co., Ltd.
3. ReneSola globally distributors shall be officially certified by Renesola HQ. If any distributor couldn't offer the distributor certificate of Renesola, it shall be recognized as a counterfeit and shoddy distributor. Renesola reserves the right to take legal action to any behavior damaging our brand of Renesola.
4. If any company using the "ReneSola" brand without Renesola official permission and fraudulently use the "ReneSola" trademark in the market. Renesola shall issue legal case to ask for the losses and compensation of the illegal behaviors.
5. Welcome the majority of clients , partners and any one to provide any information of infringement on Renesola brand. Please don't be hesitated to contact us by the email of: sales.cn@renesola-energy.com
Sincerely,
Renesola Co.,Ltd
June 9th, 2022
---
Awarded as quality stable & reliable brand for continuously 15 years by clients both domes-tic and overseas
Contact Information
No.5 fuqiang road, Xuejia town, Xinbei district, Changzhou city
---