Focusing on Colombia | ReneSola's Exciting Appearance at ExposeSolar Colombia 2023
---
From October 4th to October 6th, the ExpoSolar Colombia 2023 was held grandly at the Medellin Exhibition Center. ReneSola arrived with the N-type TOPCon component product and made a stunning appearance at booth 211!
This exhibition is not only a trade fair but also a vital institution in the value chain of renewable energy, sustainable transportation, energy efficiency, and other industries. As the most professional solar energy exhibition in Colombia, the event attracts numerous professional scholars and business representatives from the industry to help promote the clean energy revolution in Latin America.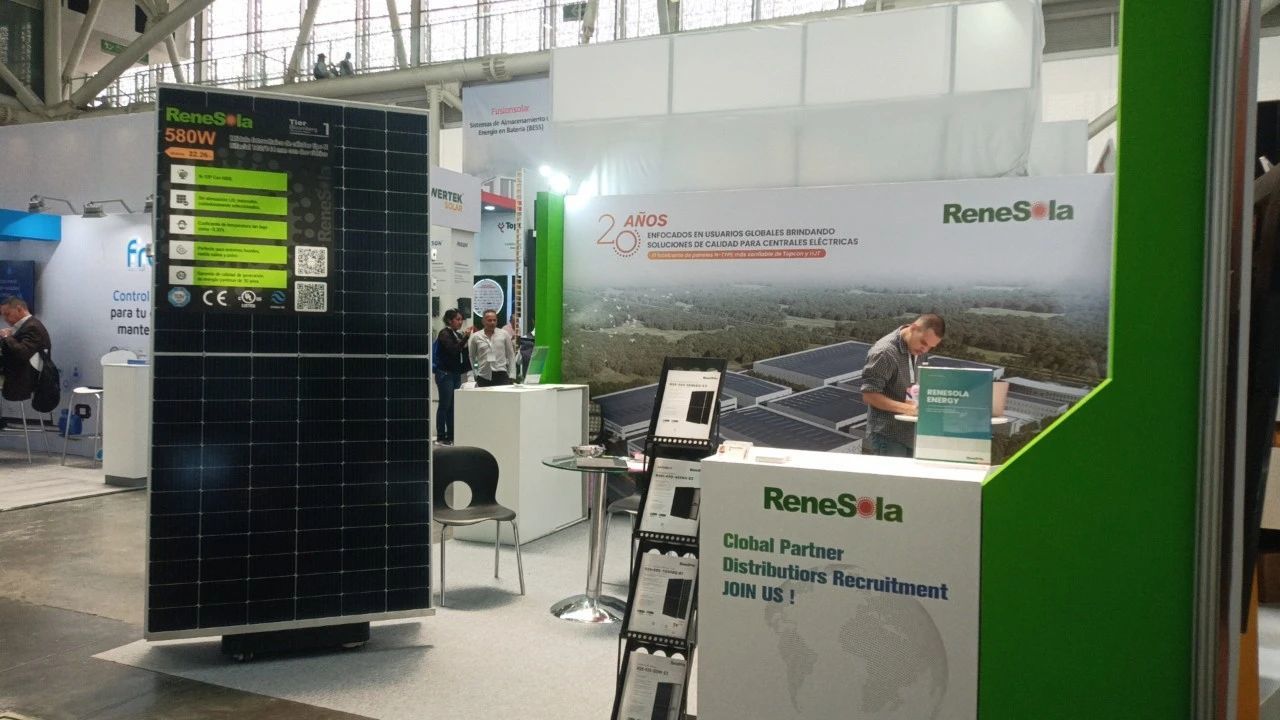 Colombia is located in the equatorial region and has abundant solar resources. The daily average radiation rate is 4.5 kilowatt-hours per square meter, and Guajira Province is the region with the highest solar radiation abundance in Colombia. The daily average radiation rate is 6 kilowatt hours per square meter, but solar power generation accounts for less than 3% of the country's total electricity consumption.
In order to promote private investment and the utilization of renewable energy, such as solar energy, the Colombian government enacted Law 1715 in 2014. This law offers tax incentives, including reductions in income tax, import tariffs, and value-added tax, for investments in renewable energy.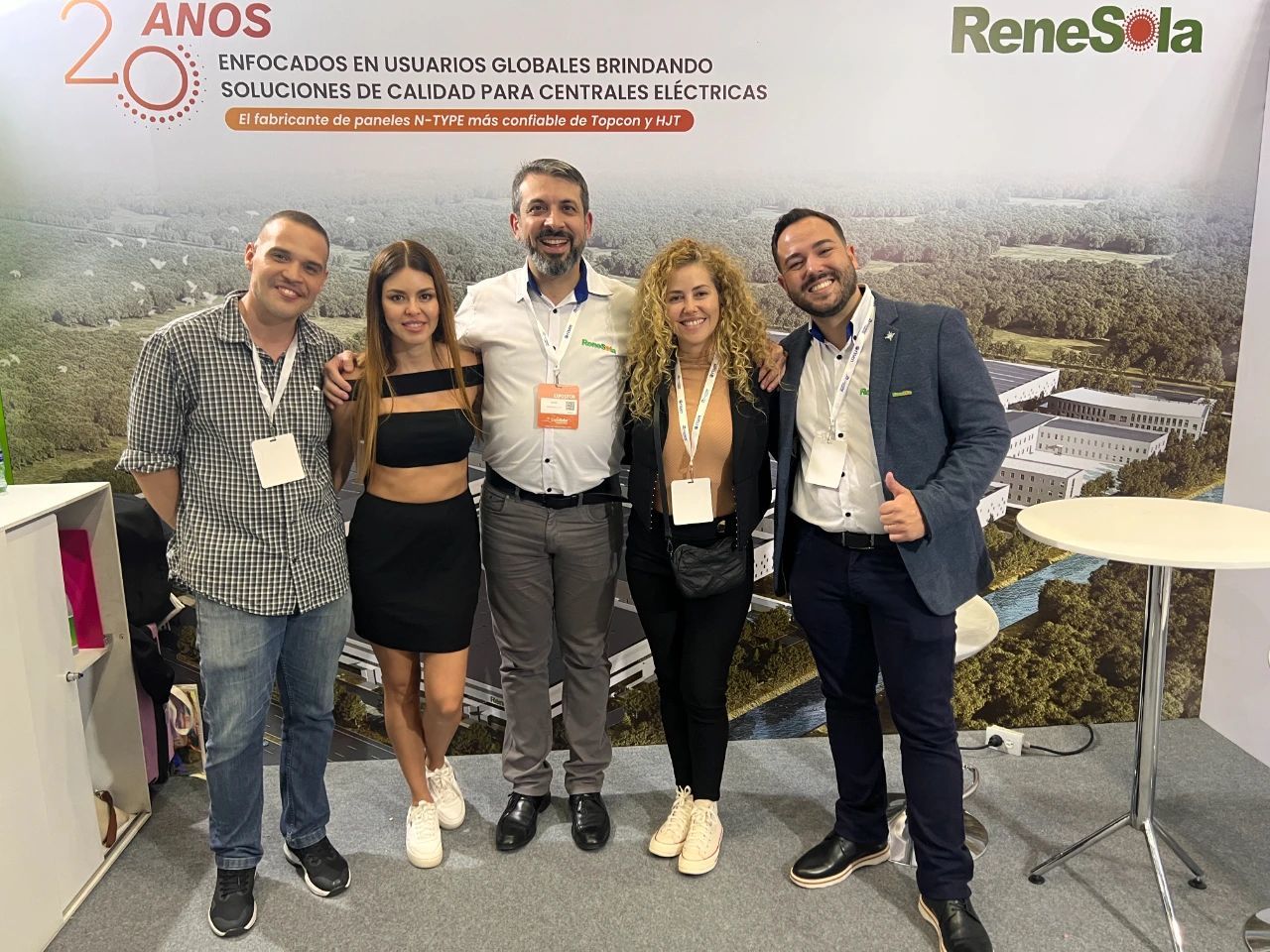 ReneSola showcases 580W TOPCon double glass module and 425W TOPCon mono-facial all-black module. The goal is to provide customers with higher returns by focusing on terminal power plants. This is achieved through four key aspects: higher conversion efficiency, higher power output, higher double-sided rate, and lower power attenuation.
N-type TOPCon 580W double glass module
The maximum conversion efficiency of the 580NBG module can reach 22.45%, ensuring efficient power output from the module. The TOPCon battery has a size of 182 * 182mm, offering higher power output and greater stability. The entire component weighs 31 kilograms and has dimensions of 2278 * 1134 * 30 millimeters. It has a comprehensive warranty system, including a 30-year linear power output warranty and a 15-year product material and process warranty.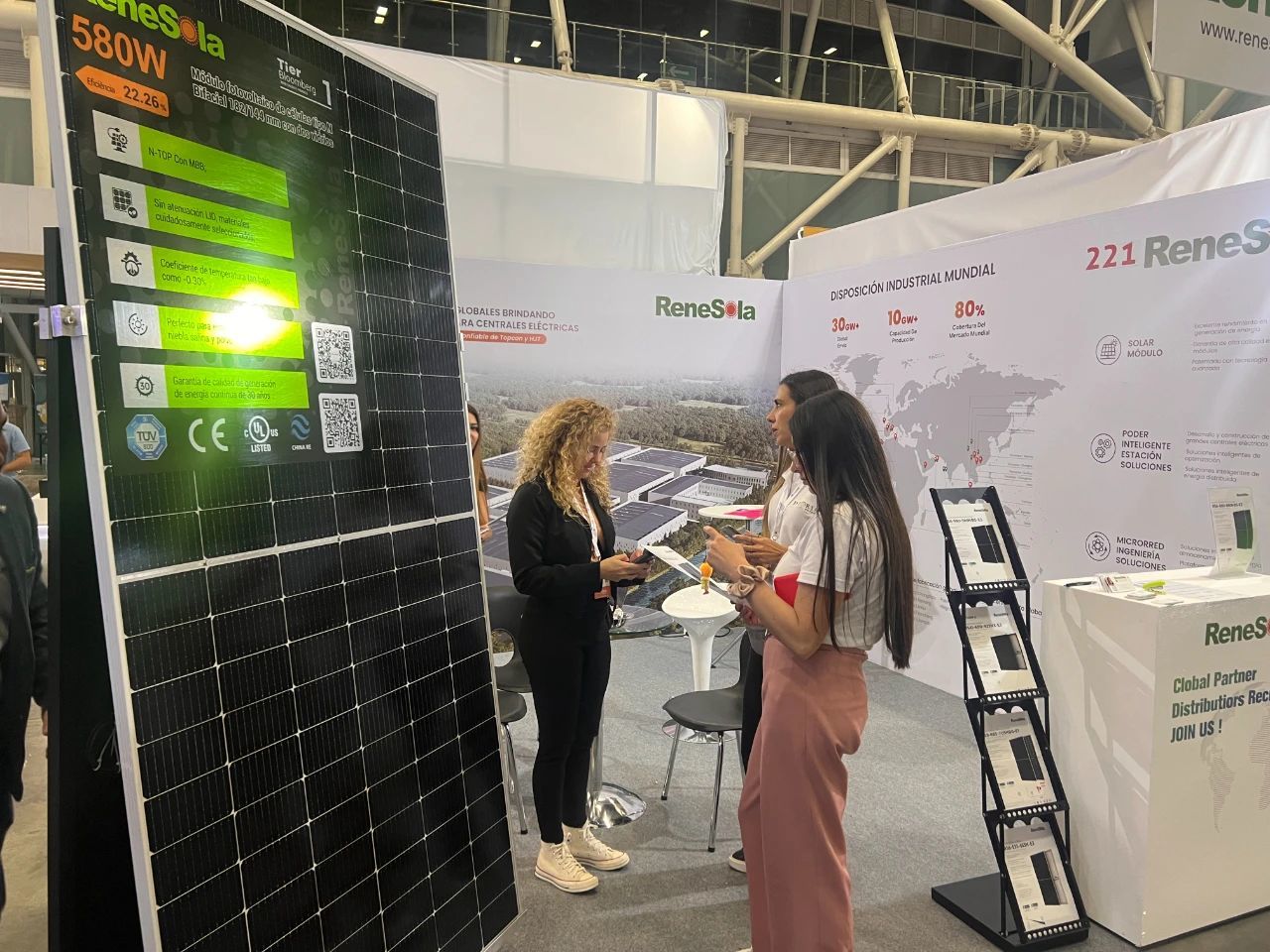 N-type TOPCon 425W mono-facial all-black module
The 182 N-type 425W mono-facial all-black module displayed at this exhibition adopts N-type M10 high-performance silicon wafers and TOPCon high-efficiency battery technology, which results in lower linear attenuation and higher power generation. Advanced module technology provides excellent module efficiency, achieving a maximum conversion efficiency of 21.76%. The exquisite all-black appearance design attracts a large number of visitors and can fulfill the distributed application requirements of high-end residential buildings in the local market.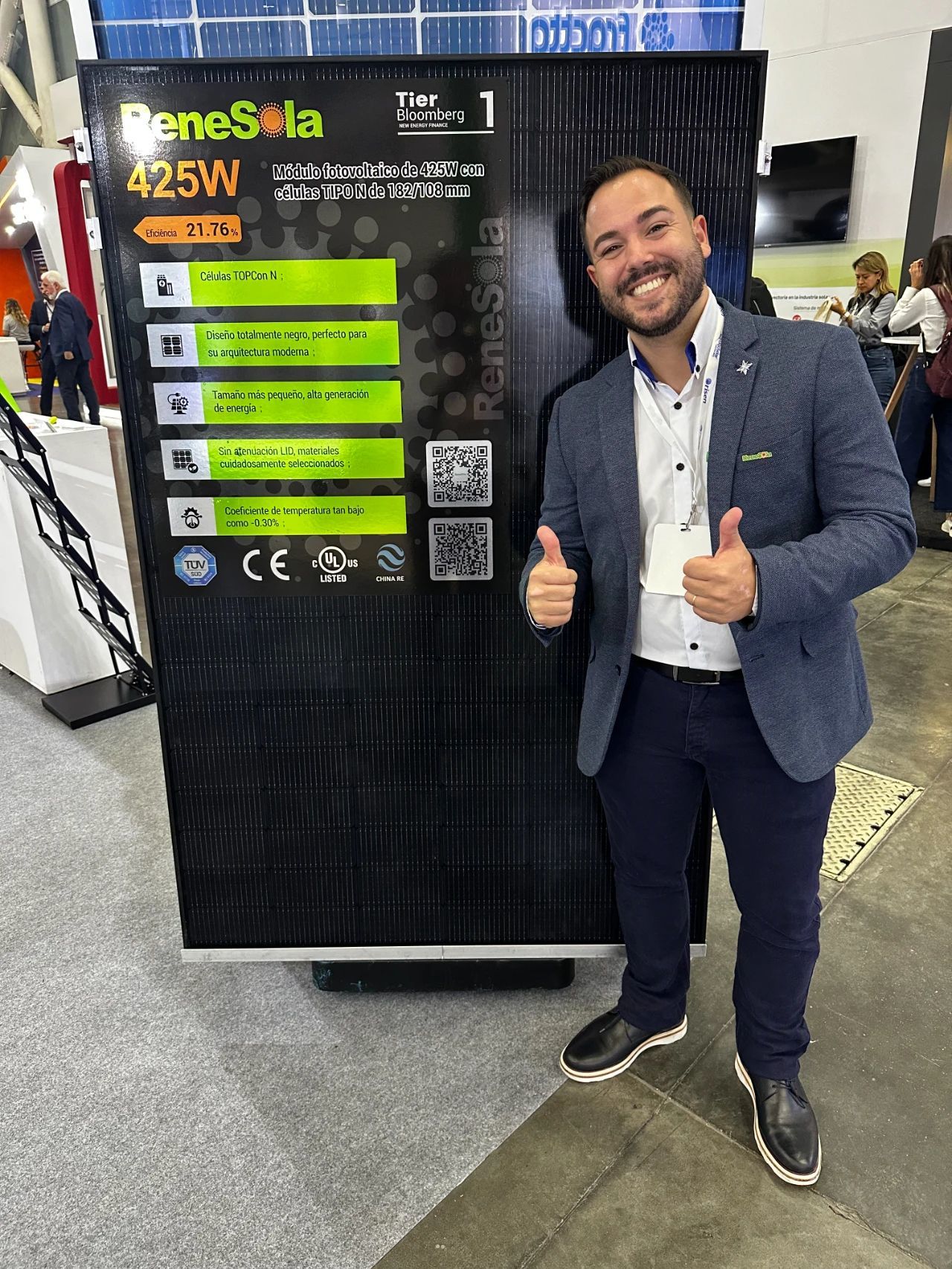 During the exhibition, ReneSola's showcased products and technologies received widespread attention from the onsite audience. The company's sales team had extensive communication with numerous overseas customers and partners, and they received high recognition from them.
Colombia is one of the most important photovoltaic markets in Central America and the Caribbean. Local authorities attach great importance to the development of renewable energy and have made a commitment to achieve a zero-carbon plan by 2050.
In the future, ReneSola will continue to strengthen its market presence in Latin America, particularly in Colombia, in order to offer the region the most efficient and dependable component products, along with comprehensive and high-quality services. This will help facilitate the rapid development of clean energy in the area.
---
Awarded as quality stable & reliable brand for continuously 15 years by clients both domes-tic and overseas
Contact Information
No.5 fuqiang road, Xuejia town, Xinbei district, Changzhou city
---