Renesola Appears in THE GREEN EXPO & Intersolar Mexico 2023
---
From September 5th to 7th, Intersolar Mexico, the 2023 Mexico International Solar Expo, was held grandly in Mexico City. Renesola showcased its latest N-type TOPCon high-efficiency PV modules at booth 1406, attracting numerous customers who visited to exchange ideas.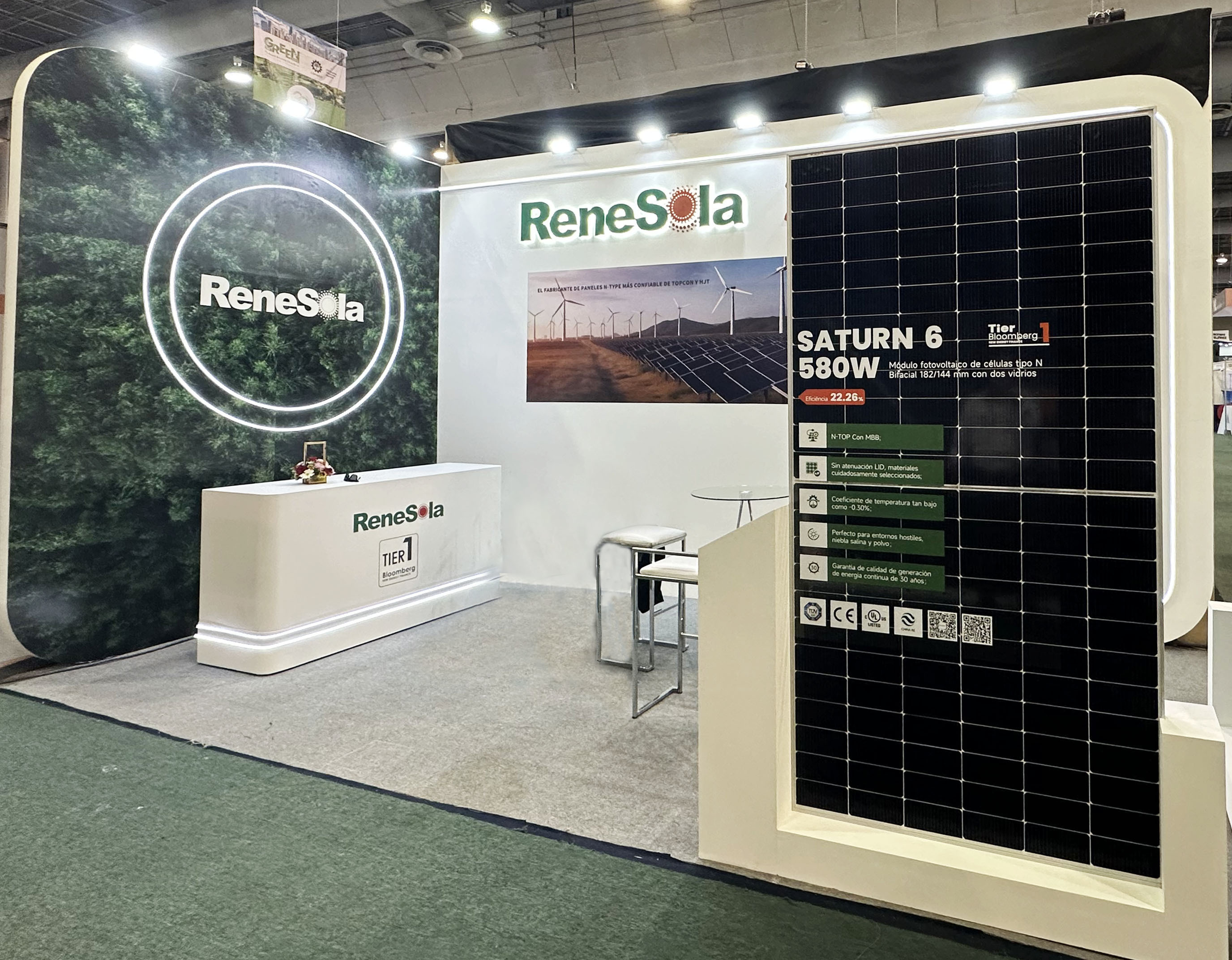 At this exhibition, Renesola aims to seize the huge opportunities for growth in the Mexican household, small industrial, and commercial distributed markets. Focus on developing the photovoltaic market in Mexico as a stepping stone towards expanding into the Latin American market and the Central American Caribbean region.
Renesola showcased the 182 N-type TOPCon 580W double-sided double glass modules and 425W single-sided single glass all-black modules. These modules feature an exquisite and compact appearance, high power density, and high reliability, making them suitable for the Latin American market. They are equipped with 425W single-sided single glass all black components, which also have an exquisite and compact appearance, high power density, and high reliability, meeting the needs of the Latin American market.
N-type TOPCon 580W bifacial module with dual glass
The 580W is currently a well-established range of power applications, offering high compatibility with accessories and transportation solutions. The maximum conversion efficiency can reach 22.45%, without LID attenuation, and the temperature coefficient is as low as -0.29%. Ultra high-precision welding technology, combined with non-destructive cutting technology and ultra-fine welding strip technology, enables the achievement of high-precision and high-quality production. As a result, the product quality is reliable and trustworthy. Components can be paired with double-layer coated glass, gap reflective film, and other techniques to enhance efficiency. Adopting an optimal frame design scheme with mechanical simulation output ensures stable and reliable mechanical performance outdoors for thirty years.
N-type TOPCon 425W mono-facial module
The 425W module is optimized for N-series battery cells and features all-black aesthetic components. Advanced module technology provides excellent module efficiency, achieving a maximum conversion efficiency of 21.76%. It is small in size but has a higher power generation capacity. Strict selection of advanced materials, technology, and industry-leading standards ensures long-term reliability and seamless compatibility with buildings. This makes it suitable for both ground-based power plants and distributed projects.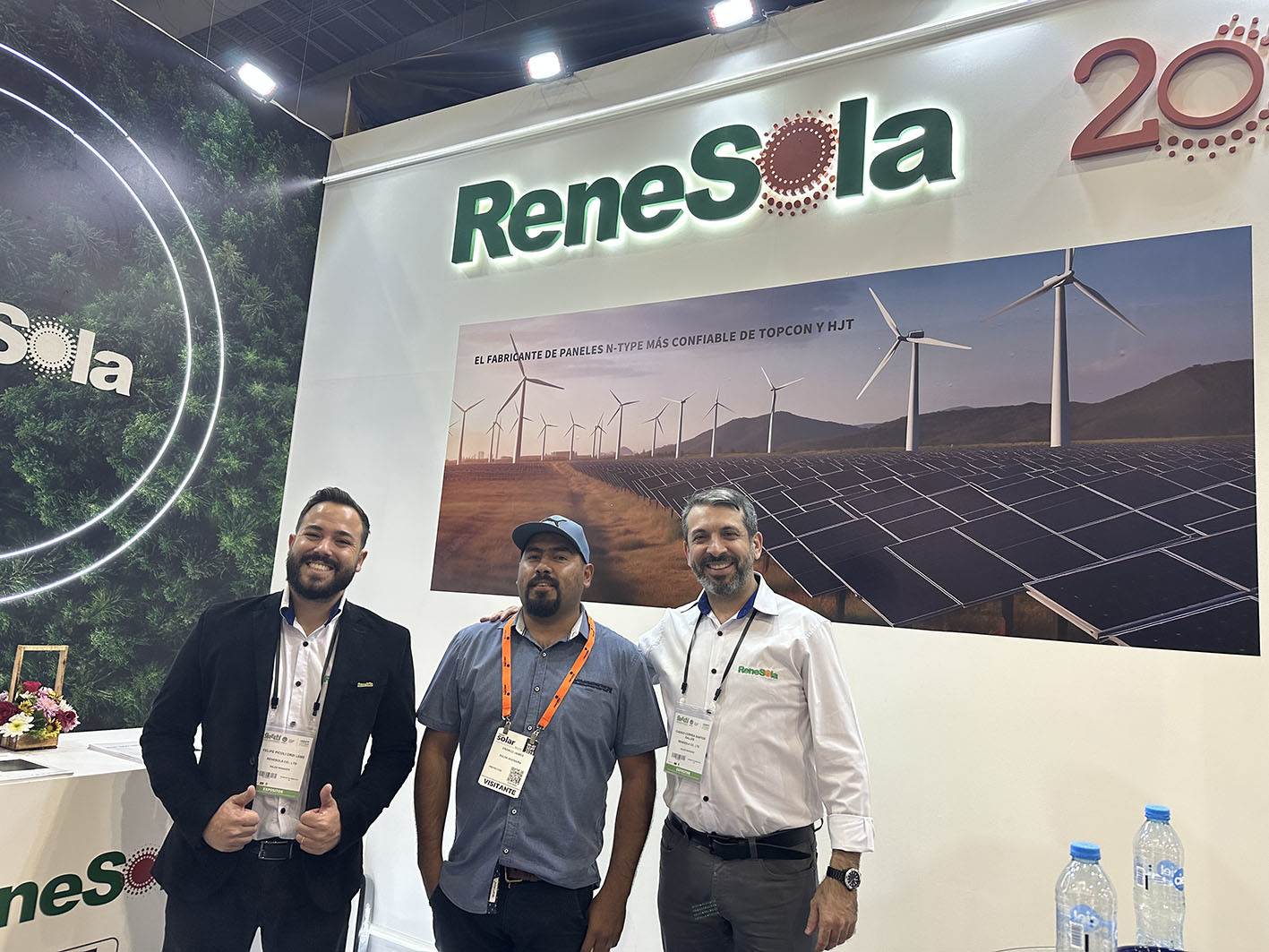 The Renesola booth has attracted numerous visitors, including exhibitors and industry professionals. In addition to the technical characteristics of the product, a significant number of visitors are confident and optimistic about Renesola's future prospects after gaining a deeper understanding of the product. Renesola once again demonstrated its leading position in the photovoltaic field and its persistent pursuit of innovation.
Renesola will collaborate with global photovoltaic partners to provide a significant boost to the sustainable development of green new energy!
---
Awarded as quality stable & reliable brand for continuously 15 years by clients both domes-tic and overseas
Contact Information
No.5 fuqiang road, Xuejia town, Xinbei district, Changzhou city
---