Renesola Haian Production Base 3GW +182/210 the first piece of N-type double glass solar module off the production line
---
Renesola Haian Production Base 3GW +182/210 the first piece of N-type double glass solar module off the production line
On April 18, 2023, Renesola's new 182-16BB PV module goes off the assembly line, marking a breakthrough in solar panel manufacturing and enters into a new field of high efficiency 570W+ solar modules , and opening a new chapter in the mass production of high efficiency TOPCon2.0 modules.
Since re-enter to the market in 2020, ReneSola has successively invested in the construction of new production bases in Zhangjiagang, Hai'an and Yancheng in order to meet the growing market demand. The completion and smooth operation of the Hai 'an base took only three months, which reflects the practical, efficient, united and striving spirit of Renesola team. I would like to thank all of our employees for their hard work and our customers support."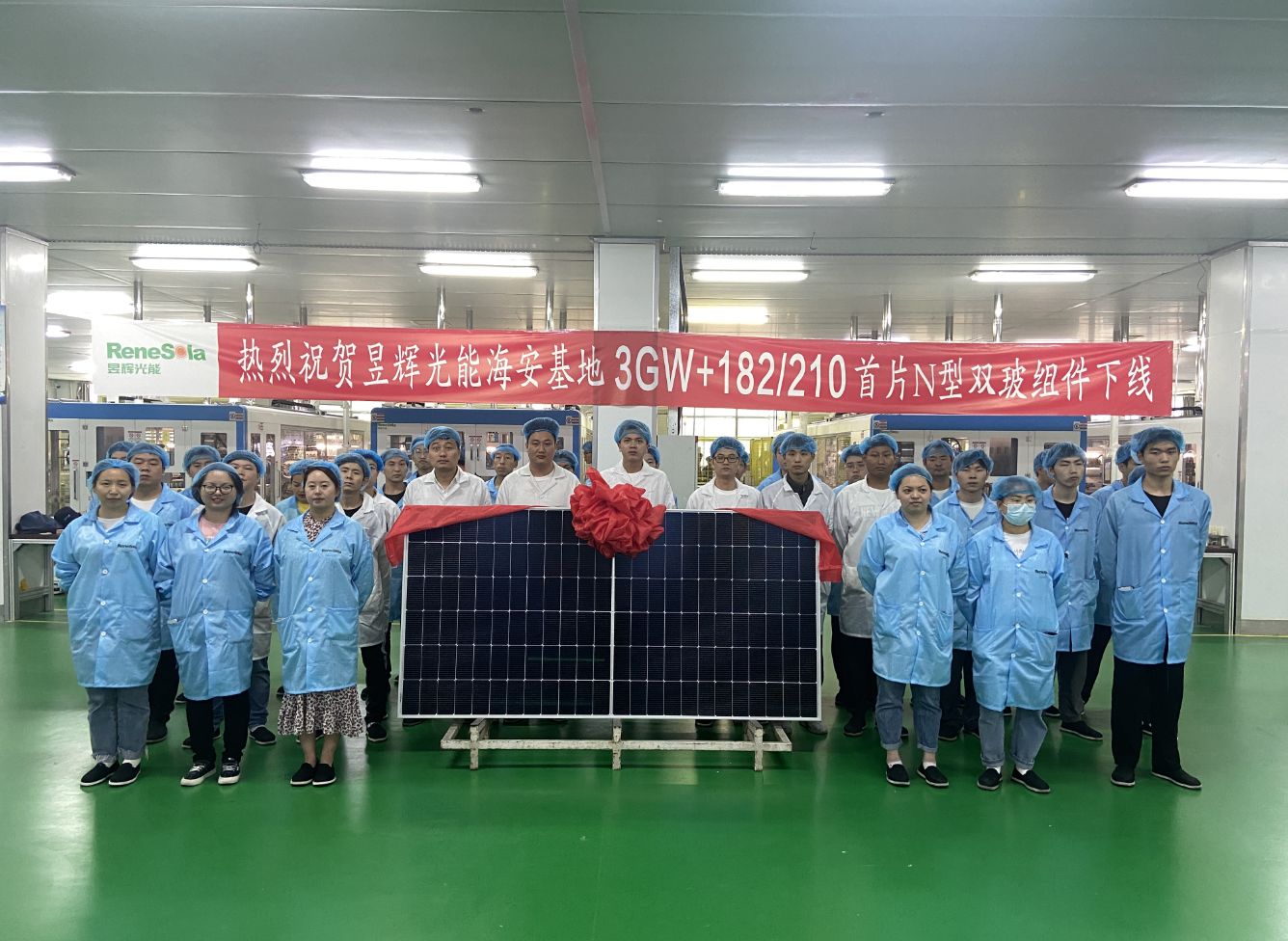 The 182-16BB double-glass module rolled off the production line this time uses M10 large-size silicon wafers, and adopts the revolutionary water-free and non-destructive scribing technology, achieving a module efficiency of over 23%.The 16BB design combined with ReneSola's self-developed circular segmented ribbon makes full use of every ray of sunlight, the bifacial double-glass design brings more power generation. Small-pitch series welding and high density bring high module efficiency, which not only achieves a significant leap in module power, but also ensures the improvement of efficiency.It is not simply to obtain high power by increasing the area of the cell, but it also solves the process, reliability and packaging logistics problems brought by large-size silicon wafers.
At the off-line ceremony, ReneSola's Technical Director said that the factory adopts the most advanced automation equipment and process technology, compatible with 182, 210 and larger cell sizes, representing the industry's leading technical level and applies the self-developed BIPV products to the distributed project of the plant roof and the Greenhouse project. Renesola currently has a top technology R&D team in the photovoltaic industry. We will lead the development of the photovoltaic industry with continuous innovation. With continuous cost reduction and efficiency technology, let photovoltaic power generation into thousands of households; Use innovation to improve solar modules reliability and market competitiveness.
---
Awarded as quality stable & reliable brand for continuously 15 years by clients both domes-tic and overseas
Contact Information
No.5 fuqiang road, Xuejia town, Xinbei district, Changzhou city
---