Exhibition dynamics, ReneSola South American team debuted at the Solar Technology Expo in São Paulo, Brazil
---
August 23-25, 2022, Brazil São Paulo North Exhibition Center - the largest photovoltaic event in Latin America - Intersolar South American exhibition grand opening, Renesola presented booth C3 140 with a range of new products, including high-efficiency N-type TOPcon modules, new-generation HJT modules, high-power 670W large 210 Components and roof distributed black aesthetic products, products cover a variety of application scenarios, giving customers full choice.
In the past year, ReneSola has been deeply involved in the Brazilian market, developing new customers while maintaining good cooperation with local distributors, and this time ReneSola products are widely recognized and included in the booths of many exhibitors.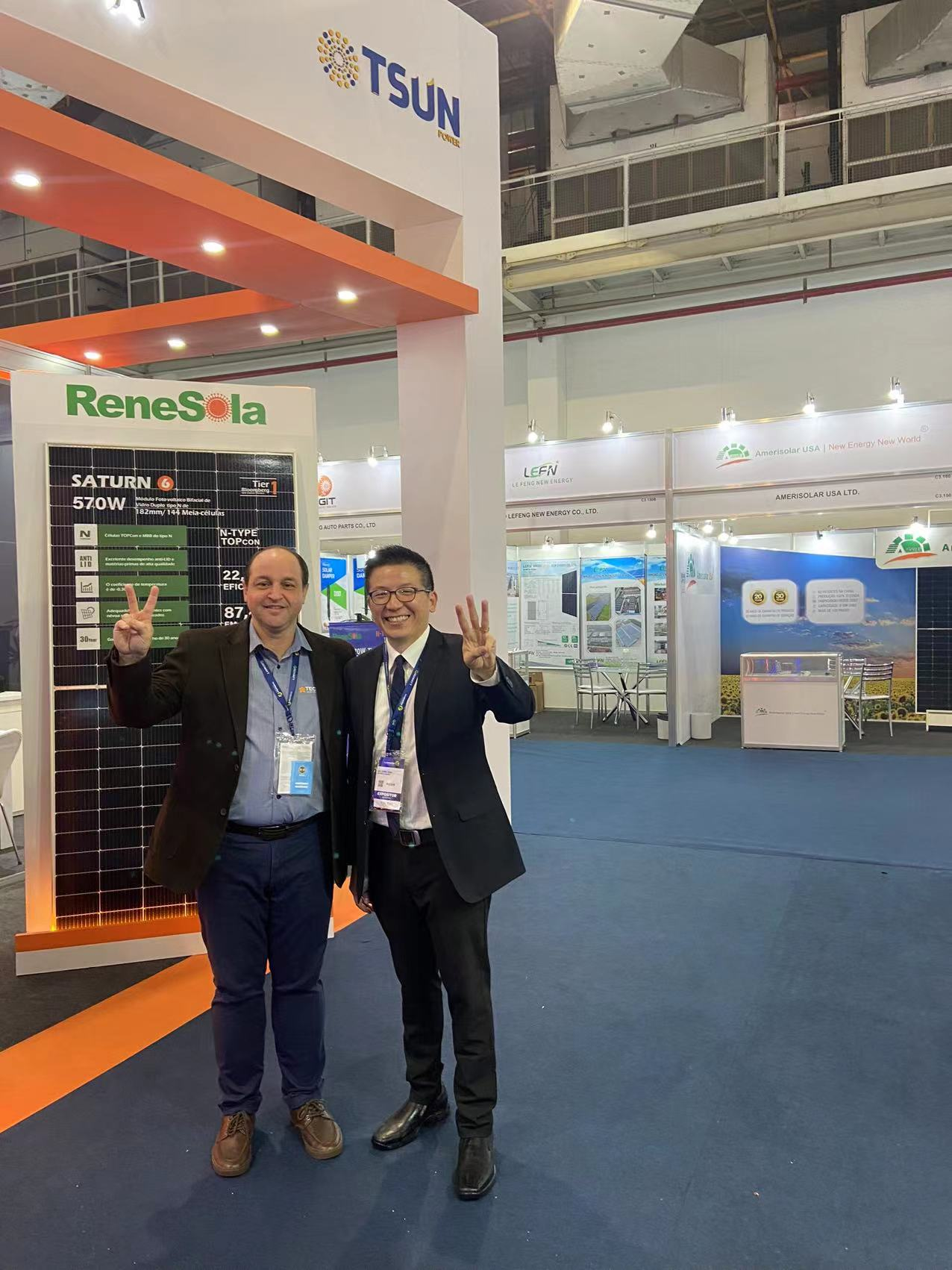 Renesola focuses on the development of cell technology, includes a variety of cell technologies on the market, such as polycrystalline, monocrystalline PERC, N-topcon, HJT, all using MBB, half-cut cell, non-destructive cutting, and gallium-doped wafer technology. Among them, the modules of the new generation HJT cell technology have no LID and PID, have a more excellent weak-light response, and can support the modules to reach an ultra-high bifacial rate of more than 85%.
Another high-profile N-type cell technology module, it is a bifacial module with dual glass, no LID, effectively reduce power loss, and ensure continuous power generation for 30 years. Renesola's continued investment in the N-type cells guarantees 3GW of cell capacity and 5 GW of module capacity by 2022.
Franics Lai, Vice President of Sales for ReneSola South America, led the sales team to the show to introduce ReneSola's leading module technology and cost-effective products to the guests and distributors. Mr. Lai said that in the future, he will be committed to deepening and developing in the South American market, and bring more high-value Renesola products to South American partners and customers.
The Intersolar exhibition in Sao Paulo, Brazil further demonstrated the new image of Renesola and solidified Renesola's strong confidence in reducing the cost of photovoltaic electricity, returning to customer value, and practicing the green energy revolution. Renesola full coverage product line modules not only conform to the development trend of the light volt industry, but also provide customers with flexible and convenient procurement channels. As a leader in the research and development, manufacturing and construction of photovoltaic modules, ReneSola will continue to focus on the sustainable development of the green and low-carbon cycle, help clean energy enter thousands of households, deliver a powerful engine to achieve the "30·60" double carbon target.
---
Awarded as quality stable & reliable brand for continuously 15 years by clients both domes-tic and overseas
Contact Information
No.5 fuqiang road, Xuejia town, Xinbei district, Changzhou city
---